BUYERS CULB
Memebers get a FREE
Marktex Film Opaqe Pen
or a Lithco 8X Magnifier
for every 5 boxes or rolls
that they order on-line
within a 12 month period.
Click here for
more information



FAQ's - Inkjet Films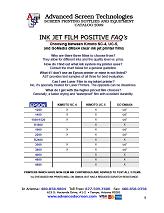 TECHNICAL INFO:

InkJet output has excellent image contrast and permits larger image sizes than Lasers Printers.
Inkjet printers often need a separately installed RIP Software (Raster Image Processor) for half-tone or mezzotint art output.
Note that dot quality at high-resolution can depend upon some printer-rip-film combinations of settings.
Vector (line art) images can redily output without additional software need.
Always test different "paper", "quality", and "ink volume" settings where available for best results.
Laser printer output is fast and turn-key, with slightly higher equipment costs, but has film size limits.
Image density and resolution can vary greatly when comparing different laser printers.
Film register can be effected by toner fusing heat of some low-cost printers.
The dot edge quality from more expensive laser printers is often sharper than inkjet at high-res settings.