Workhorse Cutlass Automatic Press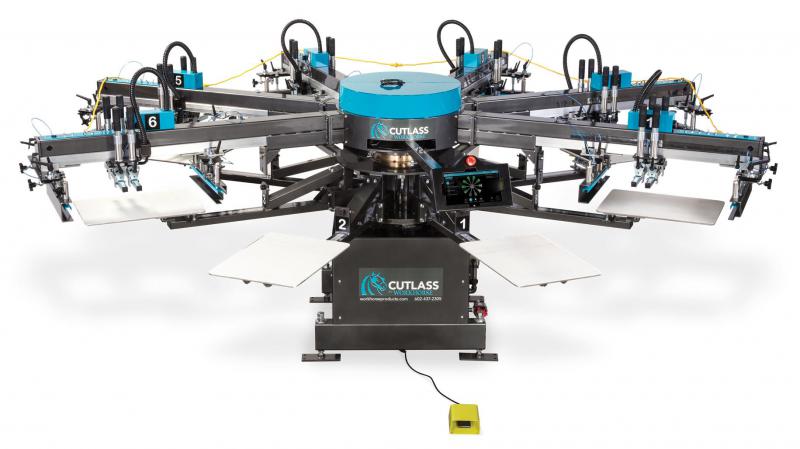 The Cutlass automatic screen printing press delivers a perfect balance of affordability and performance. The electric driven indexing with pneumatic print heads combines the fast and smooth indexing of the Sabre with the easy to use and reliable pneumatic print heads of the Freedom all enhanced by the Workhorse OS.

6 or 8 Max Color Options
20″ x 20″ Print Area (12 color has 20″ x 28″)

The Touch Screen Display controls every aspect of the machine, including stroke functions, self-diagnostics, and machine updates.
AC/electric precision indexing for faster speeds. Zero-delay double-indexing and multiple station indexing.
Pneumatic driven print-heads with independent print/flood speed controls on each head.
Plug-N-Go-Flash capable. Independent angle, pressure, and speed adjustments are standard.

Front or rear print carriage stop position allows operator to leave screens clear or flooded (great for water-based inks).
Enhanced Front Micro-Registration adjustments with visual guides.
Central Off-Contact Adjustment provides the ability to quickly change between different substrates.
Compatible with most Pin registration systems.

6 Color – Electric: 220v, 5amps | Air: 110psi, 22cfm | Diameter: 12-1/2ft.
8 Color – Electric: 220v, 6amps | Air: 110psi, 24cfm | Diameter: 14ft.

Contact us for further information and pricing or custom quotation