Workhorse Screen Drying Cabinet
SKU: WH-DRYINGCABINET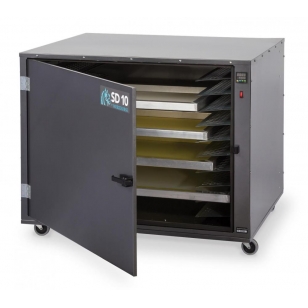 Fast and Dust-free Screen Drying Cabinet
This unit is designed to eliminate problems associated with the screen preparation process. Problems such as dust and foreign materials caught in the emulsion, the application of block out and labor costs to repair pinholes and imperfections, and inconsistent drying times to name a few. The SD-10 will save you time, money and improve your overall screen quality. It's versatility to hold a variety of screen sizes, function as a perfect stand for most bench model exposure units and affordable price, make it a welcome addition to any print shop.
10-screen capacity from 20 x 24" up to 25 x 36"

Digital temperature control

Dual functioning exhaust
Contact us for current promotions or add-ons
When purchasing equipment with Visa, Mastercard, or American Express, your card will not be charged until you are contacted by our sales office with any shipping/crating charges, due to the size and weight of these items. PayPal purchasers will be contacted and charged separately off-line for shipping/crating charges, when applicable. You can obtain a freight quote prior to purchase by contacting customer service at 877-509-7600 or 480-858-9804.

If you would like to investigate leasing options, click here.