Exile Technologies Spyder II Direct-to-screen System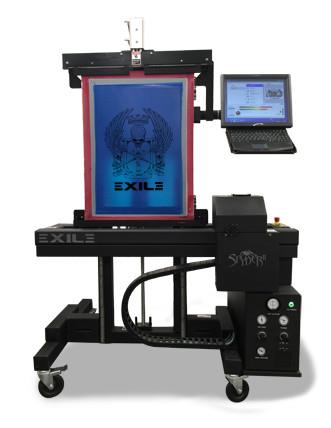 The improved Spyder II Direct-to-Screen System has bi-directional printing, improved dot quality, updated electronics to ensure reliability, and a new touch screen control panel for more flexibility over job control.
This technology uses heated wax ink with a robust, phase change inkjet head technology, to place a high-density image directly onto a coated screen. The system prints at 600 dpi, allowing halftone frequencies of up to 75 lpi. The Spyder II 30 supports standard frames up to 25" x 36", while the larger Spyder II 52 supports frame sizes up to 54" x 46".
Your image is digitally applied with absolute accuracy. This eliminates human error with manual placement of film separations on multiple screens. That translates into less press setup up time, and more jobs run per day. Art file management is streamlined. At less than 1 minute per screen, the Spyder II will keep up with the busiest of screen rooms. No vacuum is required for the exposure, and the wax ink is water soluble allowing for easy wash-out.
Click here for Exile SpyderII TDS. Click here for SpyderII vs. InkJet Technology example. Click here for SpyderII Website

Contact us for further information and pricing or custom quotation