Ultrasoft Black
5.00
SKU: PLUE-8000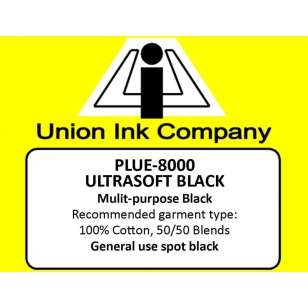 General use multi-purpose black
Union Ink ULTRASOFT inks are versatile, lead free, phthalate free plastisol inks formulated for direct screen printing and heat transfer manufacturing. They have good coverage on light and medium-colored garments. When printing on dark fabrics, a white underbase is recommended. ULTRASOFT'S new formulation helps eliminate press stoppages due to build-up on the backs of screens.
5.00 Global Rating: 5.00 from 2 reviews
Add your review of this product
Ultrasoft Black 5.0 Union Ink ultrasoft black By Blade Surfer Never fails. Always work great on any type of garment
Ultrasoft Black 5.0 Union Ink Black ultra soft black ink By Blade Surfer Always excellent choice for screen printing. I have been using this ink for the last 17 years.