Dri-Vault 10 Screen Drying Cabinet
SKU: VDC-253610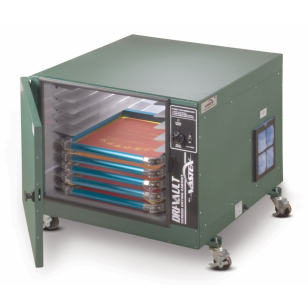 This professional screen drying cabinet holds 10 screens up to 25" x 36" Max O.D. Industrial stainless steel finned heater Blower provides 150 c.f.m. filtered air. Pressurized air flow system can dry screens in as little as 20 minutes. Features breaker/switch and pilot light for easy control. Screens sit horizontal on removable galvanized metal shelves. Shelves are angled for frame edge contact only. Sealed door with mechanical latch handles. 3 year warranty.
AVAILABLE OPTIONS AND UPGRADES:
Stainless steel shelves for rustproof drying
Caster Wheel Set (standard on 24 screen cabinet)
120 or 240 Volt (standard on 24 screen cabinet)
Expanded Depth for MHM style screens with pins
(24 screen cabinet) Call for pricing.
Digital Temperature Controller for 10 screen Dri-Vaults
When purchasing equipment with Visa, Mastercard, or American Express, your card will not be charged until you are contacted by our sales office with any shipping/crating charges, due to the size and weight of these items. PayPal purchasers will be contacted and charged separately off-line for shipping/crating charges, when applicable. You can obtain a freight quote prior to purchase by contacting customer service at 877-509-7600 or 480-858-9804.

If you would like to investigate leasing options, click here.