E2 LED 2536 Exposure Unit
SKU: E2-2536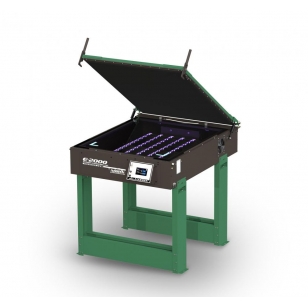 LED Lamprs produce ultra-fast exposure times and uniform lighting intensity, 25K to 50K hour bulb life, lowered electical usage, and very low heat emission are added benefits Fast power vacuum hold down draws through the high-impact tempered glass that virtually eliminates breakage. 36"x25" Max O.D. Frame size features six 28" High Output U.V. LED lamps on 3-1/2" centers. A precision digital timer controls lights and vacuum. Heavy duty construction with bearing lid locks. VRS Pin Registration compatible.
AVAILABLE OPTIONS AND UPGRADES:
Add Upgrade to 240 Volt Model
Optional Caster Wheels for stand
Dri-Vault 10 Combo Upgrade
When purchasing equipment with Visa, Mastercard, or American Express, your card will not be charged until you are contacted by our sales office with any shipping/crating charges, due to the size and weight of these items. PayPal purchasers will be contacted and charged separately off-line for shipping/crating charges, when applicable. You can obtain a freight quote prior to purchase by contacting customer service at 877-509-7600 or 480-858-9804.

If you would like to investigate leasing options, click here.