D-100 18" Wide Conveyor Dryer
5.00
SKU: D-100
Vastex Entry Level Table-top Model
1625Watt 110+ Shirt/hour output
16"x16" Heat Panel
Ships UPS Ground Service



Contact us for discounts not shown online
Entry level tabletop infrared conveyor dryer by Vastex International with 18" wide conveyor belt cures up to 110* plastisol-printed garments or 50 discharge-printed garments per hour. Adjustable heater height/angle, heat intensity and belt speed provide full operator control. 120V or 240V models. *Cure times are based on a single chamber dryer curing plastisol ink. Adding chambers and belt extensions will increase production speed. Production speeds for water based, discharge and digital inks will vary greatly. Assembly required.
AVAILABLE OPTIONS AND UPGRADES:
Choose from 120V or 240V
Optional Stand
When purchasing equipment with Visa, Mastercard, or American Express, your card will not be charged until you are contacted by our sales office with any shipping/crating charges, due to the size and weight of these items. PayPal purchasers will be contacted and charged separately off-line for shipping/crating charges, when applicable. You can obtain a freight quote prior to purchase by contacting customer service at 877-509-7600 or 480-858-9804.

If you would like to investigate leasing options, click here.
5.00 Global Rating: 5.00 from 4 reviews
Add your review of this product
D-100 18" Wide Conveyor Dryer 5.0 DR-100 By Chris Moore Great little heater that gets the job done! We use two of them and love it.
D-100 18" Wide Conveyor Dryer 5.0 Sturdy entry-level winner! By Terry Moore This is my first conveyor for my screen print shop, and it's a winner so far!

Pros: Size perfect for small shops/home-based business, quality of build, speed and heat controls, tiltable heat element for hats, professional-looking, inexpensive

Cons: Belt in motion is noisy at all speeds, difficult to adjust tracking, short tunnel entry

The unit is very well built with thick gauge metals - seems like it will last indefinitely. My temp gun showed fairly even heating at all surfaces of the heating element.

Do keep in mind that this conveyor is 18" wide, and, that I know of, you can't add length to the entry belt.

Also, make sure you read the instructions very carefully - MAKE SURE YOU LEAVE THE BELT RUNNING AT LEAST 10 MINUTES AFTER TURNING OFF THE HEAT! If not, you could risk damaging the belt.

So far, this is an excellent buy for me! (Have had for 1 week)
D-100 18" Wide Conveyor Dryer 5.0 It does IN FACT work for water based inks! By Nicholas Johnson I was skeptical as the majority of the internet seems to be wether or not this short of a dryer could pull off a full cure on waterbased ink, and I am happy to report that Im through two job runs with it and everything cured just great.. Of course you have to slow down the belt, but this thing (coming from just using a flash) has speed me up exponentially!
D-100 18" Wide Conveyor Dryer 5.0 Awesome dryer By Anytime T-shirts LLC Love the new dryer. It has made my life so much easier. Great company, great service, fast shipping. Thank you Vastex and AST.
You may also like: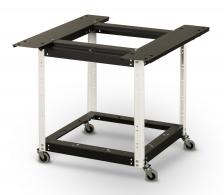 Optional Equipment Stand
$329.00