D-1000 26" Wide Conveyor Dryer
5.00
SKU: D-1000
Vastex Entry Level Table-top Model
2050Watt 110+ Shirt/hour output
16"x20" Heat Panel
Ships UPS Ground Service



Contact us for discounts not shown online
Compact Infrared Conveyor Dryer by Vastex International cures up to 110 plastisol-printed garments or 50* discharge-printed garments per hour. Conveyor belt width of 26" accommodates wider jackets and sweats, and wider printed images. 120V or 240V models. *Cure times are based on a single chamber dryer curing plastisol ink. Adding chambers and belt extensions will increase production speed. Production speeds for water based, discharge and digital inks will vary greatly. Assembly required.
AVAILABLE OPTIONS AND UPGRADES:
Choose from 120V or 240V
Optional Stand
When purchasing equipment with Visa, Mastercard, or American Express, your card will not be charged until you are contacted by our sales office with any shipping/crating charges, due to the size and weight of these items. PayPal purchasers will be contacted and charged separately off-line for shipping/crating charges, when applicable. You can obtain a freight quote prior to purchase by contacting customer service at 877-509-7600 or 480-858-9804.

If you would like to investigate leasing options, click here.
5.00 Global Rating: 5.00 from 4 reviews
Add your review of this product
D-1000 26" Wide Conveyor Dryer 5.0 Great Machine By Lloyd Furches I have a small shop, but have been in business for 37 yrs with a 12' dryer of the same age. This D-1000 with the 10" expansion belt can print at my speed with no problems. Also, it uses much less electric and quietly.
The service from sales and shipping was excellent.
Thanks
D-1000 26" Wide Conveyor Dryer 5.0 Very Happy By Jim Phillips Great experience so far. Smooth transaction, quick delivery, easy assembly, works as advertised, more than doubled our production capability. Still trying to get the temp control vs conveyor speed vs heater height combination perfected, but we put it to work the first day with no problem. Glad we made this purchase from AST, and would happily do so again.
D-1000 26" Wide Conveyor Dryer 5.0 Positive Feedback By Domingo Maldonado III Great product at a great price. Customer service reps were super friendly and answered every question I had. Would definitely use AST again for purchases.
D-1000 26" Wide Conveyor Dryer 5.0 Great little dryer! By Ian Nice little dryer, lightweight, I added the 10" extension to the front for easier loading. The wider belt (26") is what sold me. Ships on a little pallet! AVT got it right out.
You may also like: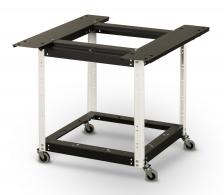 Optional Equipment Stand
$329.00