Econored-II 54" Wide Conveyor Dryer
SKU: EC-II-54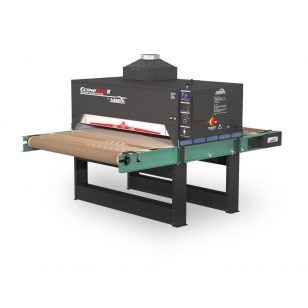 Vastex Professional Level High Volume Model
14400 Watt 600+ shirt/hour output



Contact us for discounts not shown online
This high production infrared conveyor dryer for mid to large sized shops has a 54" wide belt and outputs 600* pcs/hr/chamber. A compact powerhouse with many advanced features such as: digital temperature control, power exhaust and air recirculation. The EC-II-54 with a single chamber has the capacity to keep up with small automatics. Add a second chamber and you have the power to cure 1000* shirts per hour in only 10½ feet. With a 54" wide belt you can run two or three rows of shirts with standard size prints or all-over prints. *Cure times are based on a single chamber dryer curing plastisol ink. Adding chambers and belt extensions will increase production speed. Production speeds for water based, discharge and digital inks will vary greatly. Please contact our sales department for help in determining which machine is right for you.
AVAILABLE OPTIONS AND UPGRADES:
Optional Locking Caster Wheels for legs
Additional Curing Tunnel
Additional Conveyor Extension
Optional Rear Exhaust Hood
When purchasing equipment with Visa, Mastercard, or American Express, your card will not be charged until you are contacted by our sales office with any shipping/crating charges, due to the size and weight of these items. PayPal purchasers will be contacted and charged separately off-line for shipping/crating charges, when applicable. You can obtain a freight quote prior to purchase by contacting customer service at 877-509-7600 or 480-858-9804.

If you would like to investigate leasing options, click here.