GK Dual-Platen Auto Press
SKU: GK-Dual-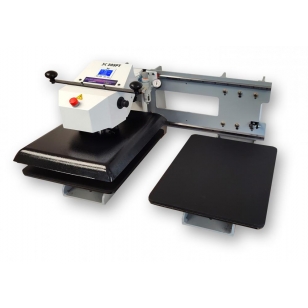 14" x 16" Twin-Automatic Digital Combo / Swing-away Heat Press
The Digital Combo DC16APT is an air-operated, Twin-Station, Automatic 14x16 heat press with optional interchangeable heat platens and tables. The smooth automatic pressing and pushbutton activation provides a productive, fatigue-free operation... in a DUAL-STATION High Production layout! With just a few fingers the top head effortlessly glides side-to-side, increasing throughput and operation productivity.
For all the same features and possibilities as the automatic DC16AP, with twin-station high-production layout, the DC16APT is the ideal high-volume pressing solution.
Note: This press is available with the 6"x8" label heat platen and bottom tables as well - the DC8APT. For a dedicated automatic twin-station cap press - the DC7APT.
FEATURES
Automatic air operated pressing
Threadable, dual interchangeable bottom tables
14" left-to-right x 16"-deep orientation (opposite DC16AP)
Fully digital temperature control 32°-600°F range
Automatic digital timer & dual pre-press timer
Air regulator and gauge 20-100 PSI range (compressor req)
Total applied force of 800 lbs max
Interchangeable Heat Platens & Tables
Solid steel welded framework
SuperCoil-Microwinding™ heater technology
Accommodates materials up to 2" thick
Temperature readout accuracy +-2°F - can show °C or °F
70 Programmable presets
Records number of pressing cycles done
Teflon-coated 3/4" thick heat platen
WARRANTY
FREE LIFETIME Tech Support!
Lifetime warranty on heat platen
5-year warranty on frame
3-year warranty on controller
1 year warranty on parts
SPECS
Air Compressor Required (min): 5gal, ½cfm, 100psi, 1/4" line
Weight: 350 Lbs
Electrical: 1500W / 12A / 120V
Shipping Dims: 42"L x 32"W x 36"H
(add $35 for 220V international)
When purchasing equipment with Visa, Mastercard, or American Express, your card will not be charged until you are contacted by our sales office with any shipping/crating charges, due to the size and weight of these items. PayPal purchasers will be contacted and charged separately off-line for shipping/crating charges, when applicable. You can obtain a freight quote prior to purchase by contacting customer service at 877-509-7600 or 480-858-9804.
If you would like to investigate leasing options, click here.